ESCAPE TO A TROPICAL PARADISE WITH THE INDONESIA SET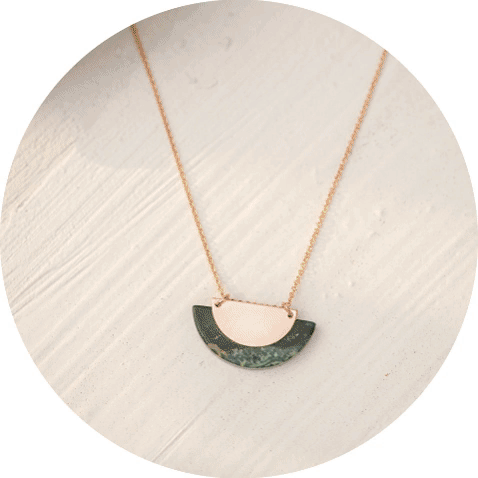 For this new season, ZOAJE is glad to introduce you to its INDONESIA set.
The color of this collection is perfect for Spring as it is composed of a lovely rose gold-filled and tropical green Jasper. The dark green gemstone reminds of Indonesia's adventurous deep forest and tropical weather. The shape of the jewelry resembles the shiny moon watching over the mysterious jungle of Indonesia. Its gentle half-moon contour creates a dainty jewelry that suits all kind of face shape. This collection's purpose is to give you a paradisiac feeling anywhere you wear it to.
Certified hypoallergenic and time-resistant, there is no limit with this set. We recommend wearing the necklace and earrings together if you're looking for a sophisticated look. Matching these two with your look of the day will upgrade your outfit to a whole different level. Dressing up for special occasions has never been this easy. This elegant and chic style creates the perfect outfit to go out and stay classy easily.
The set can also be paired with another piece of simple rose gold-filled jewelry. We particularly like to wear the INDONESIA necklace with the ENGLAND earrings to emphasize on the gemstone's tropical green. This set is recommended for girls with dark hair. The brightness of the gold accentuates their perplexion as the green Jasper creates a contrast between the tone of the skin and the hair.
As for light hair, we suggest wearing the INDONESIA earrings with the POLAND Bangle. The color of the stone will contrast with your hair color, plus the dark green of the Jasper will highlight your tone. You can be sure that the earrings won't get lost in your hair!
Also known as Kambaba Jasper, the tropical Jasper is a rare variety of Jasper gemstone originally from Madagascar and South Africa. After being around for 3 billion years, it is one of the oldest minerals of the planet. Its dark green color reminds of deep tropical forests. Jasper is the planetary stone of Aries. This means that girls fortunate enough to be born between the 21st Mach and 19th April can benefit from the stone properties.
Representing the beginning of Spring, the Jasper stone is also a symbol of a fresh start. It is the ideal season to do a cleaning spree in your life and take back control of it.
The INDONESIA collection is the perfect gift to offer to someone who needs strength and balance for her new beginning. It is a simple gesture to show compassion and support to your loved ones.