Rose Gold is the New Black
Whether it is for jewelry, interior decoration or accessory, rose gold is everywhere. No wonder why, its pink metallic color is perfect to give a warm and shiny touch to your house or to your outfit.
Rose gold, also known as pink gold, red gold or blush gold, is a gold alloy made from a combination of gold and copper. Depending on the percentage of copper mixed, the color tone can vary between yellow-pink to dusky red-pink.
From accessories to makeup or hair color, you can see it everywhere around you.
Why is it so much loved? Its neutral color makes it very easy to match with any kind of other colors. Easy to wear, rose gold is symbol of elegance, warmth and timelessness. From traditional to modern aesthetics, rose gold fits everything and everybody.
No matter your perplexion, you will always naturally look good in it thanks to its beautiful pink glow that creates a soft, subtle and pretty reflection on the skin. Your look will be radiant without being too much.
If you are wearing rose gold jewelry, opt for neutral clothing colors such as white, beige and pastels.
Wearing rose gold does not mean only wearing rose gold accessories. Its pink color matches very well white gold, silver and even gemstones in the blue, white, green and grey color families!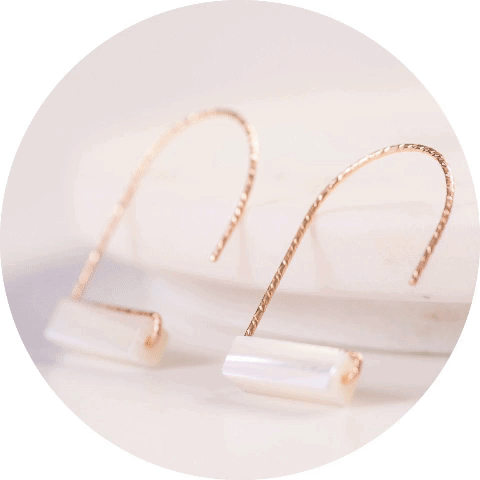 So do not be shy, mix and stack your jewelry!
At Zoaje, we just can't live without it, we always used rose gold.
The SRI LANKA set is composed of rose gold-filled and 925 sterling silver and has been Zoaje's best-seller since its debut.
Elegant and sparkly, it's Summer 18's must-have!
As for makeup, the nude palette is the best! To add a little contrast with your skin tone and your rose gold jewelry, opt for a lipstick with a warm undertone such as neon or hot pink for Summer.