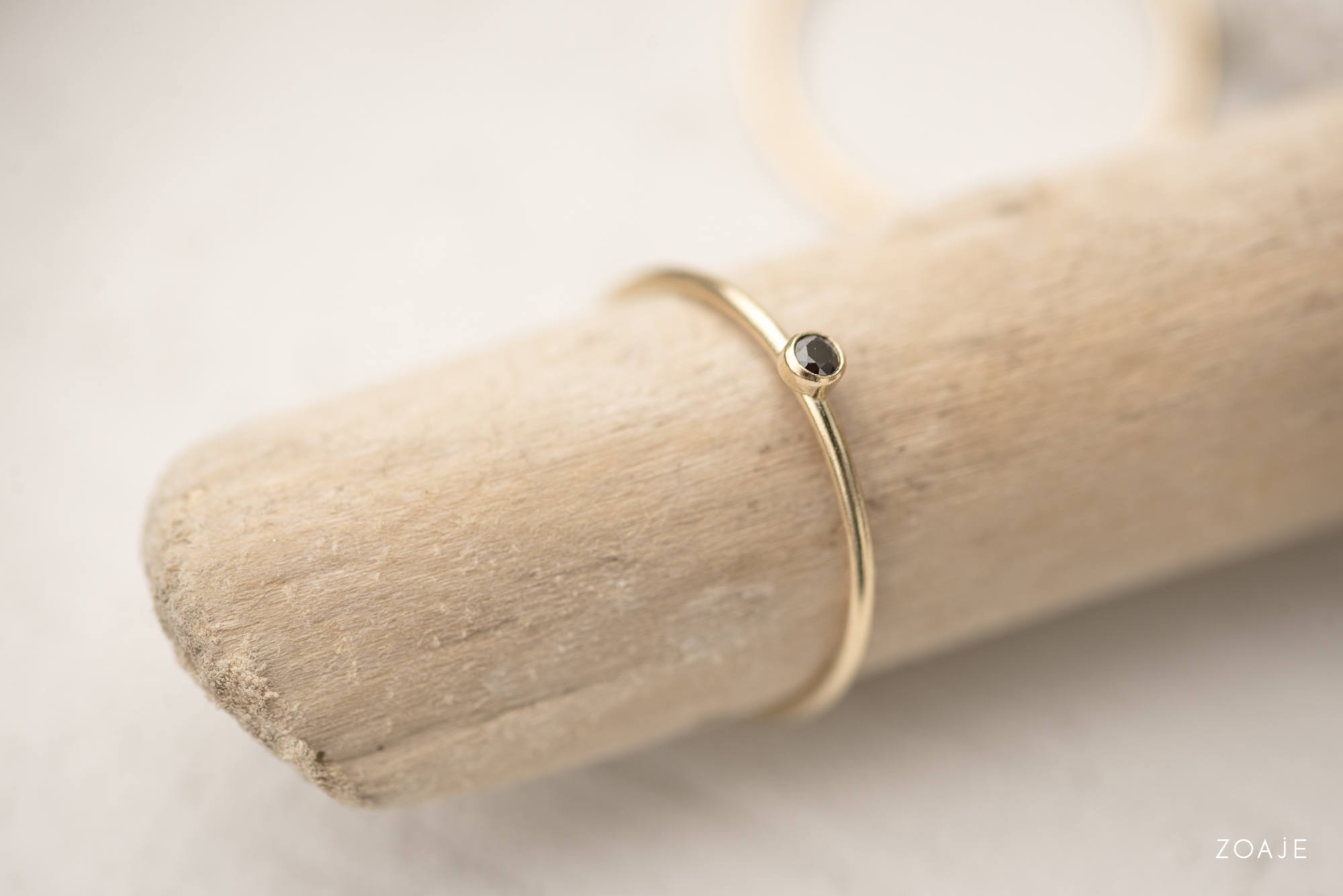 SWEDEN RINGS BLACK
14k gold filled

2mm black Zircon stone

Delivered in our small white and golden fabric clutch and its gift box!
A dainty, minimalist and elegant ring in 14k gold filled with a tiny black Zircon stone.
Play and improvise by wearing together ZOAJE different dainty rings in 14k gold filled.
__________________________________
G O L D - F I L L E D
Gold-filled is a quality alternative to solid gold. This treatment, coming from the United States, consists of the application of a strong solid gold layer on a base metal with heat and pressure. Gold-filled is not to be confused with Gold Plated as there is 50 to 100 times more gold in a Gold-filled product than in a Gold Plated one (Gold-filled is legally required to contain 5% of solid gold by weight). Gold-filled is much more valuable and durable than gold-plated; it does not flake, fade nor change colour. Anyone who can wear Gold can wear Gold-filled without any risk of allergy (even for earrings!). Gold-filled jewelry is an economical alternative to solid gold and is cleaned and maintained easily. At Zoaje, we use 14k Gold-filled that we import directly from the USA.
More information about 14k Gold-Filled HERE

__________________________________
💌N E W S L E T T E R 💌
Subscribe to our newsletter and get 10% off on your first order.
simply follow this link.

__________________________________
C L E A N I N G
To clean your 14k Gold filled jewelry, apply a dab of toothpaste on the jewelry and softly rub with your hands. Rinse with cold water then dry with a tissue until completely dry.
More information about your jewelry care HERE


********************************
N O T E
> As we use natural stones to make our jewels the colors of each stone can be slightly different from what appears on your browser.